Thu 30 Nov 2006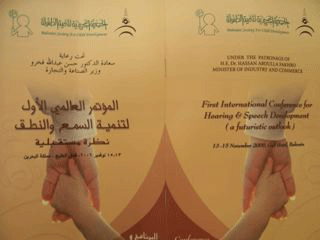 [Image 1. The First International Conference on Hearing and Speech Development, Bahrain]
The bitterness of the hearing impaired person's disability is witnessed in their feeling of insecurity and inferiority, compounding the disruption of communication between them and the rest of society including family members and friends. Science and technology have tremendously changed both modern and traditional societies at the material level. However, social and cultural awareness of the critical status of disabled persons in Arab and Third World countries lags behind. Children with special needs remain invisible to the society because of the lack of social recognition, rehabilitative support systems, and educational facilities. Disabled persons need extensive training and continuous rehabilitation to improve their quality of life especially at a time when material costs are sky rocketing and resources are available only to those who have sufficient economic resources. These disabled persons need assistance and support to participate in the mainstream of everyday life.
Like developing societies, Arab states lack sophisticated medical clinics and organizations dealing with human disabilities such as those found in the developed countries. In the U.S., for instance, there are the American Speech-Language-Hearing Association (ASHA), the National Institute on Disability and Rehabilitation Research (NIDRR) and Rehabilitation Engineering and Assistive Technology Society of North America (RESNA) among others that orchestrate together for the benefit of the hearing impaired persons.
The sweet or upside of this picture is represented in NGO, civil society, and volunteer activities. In Bahrain, for example, it is worth mentioning the personal efforts and dedication of individuals who, despite difficulties, have managed to convince the community and government of the noble task of assisting disabled persons. Dr. Fouad Shihab, a scholar who described himself as being blessed for having a daughter with special needs, is currently a board member of the Bahraini Society For Child Development (BSCD, established in 1994) and president of the Sultan Bin A. Aziz Al Saud Center for Development of Hearing and Speech, also located in Bahrain. Though the tasks have not been easy, the results have been encouraging. The BSCD has attracted the attention of the government (the Chairman of the BSCD is also the Minister of Commerce and Industry) and other NGOs.
Meanwhile, the Center has treated and rehabilitated more than 600 children who have been assisted socially and educationally. The Center has also organized three successful conferences in the past and has recently organized "The First International Conference on Hearing and Speech Development" from November 13-15, 2006 in Manama, Bahrain (image 1). Keynote speakers and discussants included specialists from Egypt, Germany, Qatar, Saudi Arabia, the UK and the US. The core goals of this conference are: demonstrating the latest scientific advances in the technology of rehabilitating children with hearing impairment, including the development of hearing aids; presenting innovative methods of communication and speech development aimed at incorporating hearing impaired children into the society; establishing a dialogue between parents/families and workers in health fields to meet the needs of the hearing impaired; and discussing how to offer the best training and most effective modalities of rehabilitation so as to improve the quality of lives of children with hearing impairment.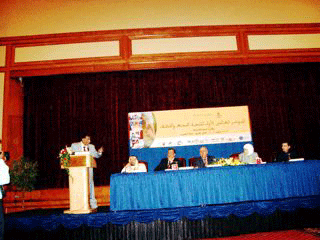 [Image 2. Fouad Shihab opening a workshop.]
One of the most critical aspects of the conference was the heated debate between social scientists and medical practitioners (including physicians, surgeons, and speech pathologists). Except for one paper, "Family role in the rehabilitation of hearing impaired children" and one workshop, "Parents role in the educational and environmental integration for hearing impaired children" (image 2), most papers presented by medical practitioners were intensely preoccupied with surgical-technical terms (mostly dealing with cochlear implantation) as well as with various models of Audio Medical devices generating an atmosphere of commerce and business despite the message that through using these devices and mastering computer programs, disabled persons can attain communicative success and achieve confidence in themselves. In this context, Dr. B. Bertram attracted the attention of both participants and audience through his presentation in which he showed highly sensitive and skilful applications of therapy techniques in treating children with a cochlear implant (image 3).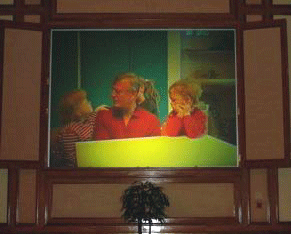 [Image 3. Dr. Bertram's video.]
Despite the heatedness of the conference, it has alerted people to issues surrounding the technological advances and ethics in dealing with disabled persons. The value of equality places a moral obligation on society to assist persons with disabilities especially when their basic human functional capabilities are impaired. The state/government, media and education system in the Arab world must take an active role in this arena.
el-Sayed el-Aswad
University of Bahrain
Leave a Reply
You must be logged in to post a comment.