Tue 30 Oct 2007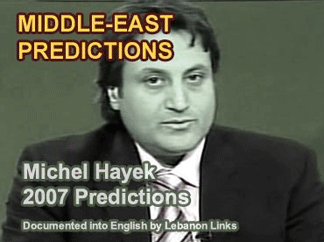 [Webshaykh's note: With so much discredited foreign policy decision-making, perhaps we should go back to the Nancy Reagan doctrine and look at the ouija board. Give political anti-realism a chance…what the heck, Mr. Hayek… See it for yourself on Youtube.]
'Clairvoyant' sees new Lebanese president, more assassinations, Hizbullah 'surprise'
Daily Star staff
Tuesday, October 30, 2007
BEIRUT: Reputed clairvoyant Michel Hayek predicted late on Sunday that "Lebanon will witness the election of a new president despite current problems." He also ruled out the "imminent" threat of civil war. In an interview with George Salibi on New TV, Hayek foresaw "a few skirmishes and problems" in the country.
"There is no impending end to the string of assassinations," he said, referring to the political murders that have plagued Lebanon since 2005.
Nicknamed "the Nostradamus of the Middle East," Hayek is known for his yearly predictions for Lebanon, the Middle East and the world.
"I see tripartite skirmishes between Lebanon, Syria and Israel," Hayek said without further elaboration.
He predicted that Shaker all-Abssi, leader of the Fatah al-Islam militant group "will reappear in a different situation."
In September, the Lebanese Army took over the Nahr al-Bared Palestinian refugee camp near Tripoli after three months of fighting with Fatah al-Islam.
"The achievements of Lebanese Army Commander General Michel Suleiman will be distorted," said Hayek. "I see attempts to attack the army as well as changes in its personnel and leaders." He also said the army would face some "internal problems."
Hayek's forecasting also implicated political leaders.
"Free Patriotic Movement leader MP Michel Aoun and Premier Fouad Siniora are part of a plan and I see a new stand, position and equation," he predicted, adding that Hizbullah would make a decision "that will surprise many people."
On the international scene, Hayek said that French President Nicholas Sarkozy "will face a complicated crisis."
In addition, he predicted the death of Israeli Prime Minister Ehud Olmert – who promptly announced on Monday that he has prostate cancer.
Among past predictions, Hayek has foreseen the deaths of Princess Diana and former Premier Rafik Hariri, as well as MP Gebran Tueni.
Leave a Reply
You must be logged in to post a comment.