Fri 24 Oct 2014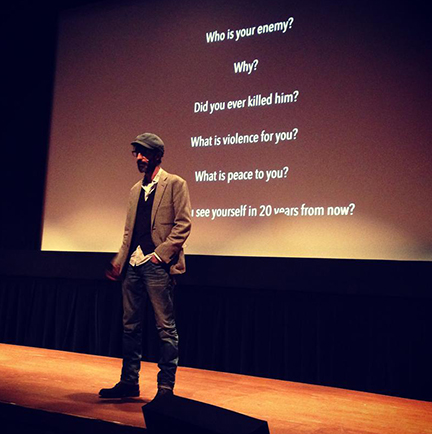 The Sundance Institute has announced the six projects set for this year's New Frontier Story Lab, a hands-on initiative for developing content that converges at the intersection of "film, visual art, media, live performance, music and technology." The 2014 creative teams and projects are Karim Ben Khelifa and Chloé Jarry (The Enemy), Dandypunk and Darin Basile (Heart Corps), Tracy Fullerton and Lucas Peterson (Walden, A Game), Braden King and Matthew Moore (Weather), Hasan Minhaj and Greg Walloch (Sakoon/Paint The Town) and Navid and Vassiliki Khonsari (1979 Revolution). Previously supported projects include #PostModem (from 25 New Faces Jillian Mayer and Lucas Leyva), Kill Shakespeare, 18 Days in Egypt and The Silent History.
Workshopping at the Lab, which runs from October 22 – 27 at the Sundance Resort in Park City, includes individualized story sessions, conversations about key artistic, design and technology issues, and case study presentations from experts in diverse related disciplines. Detailed descriptions of each project can be found below.
The Enemy
Karim Ben Khelifa and Chloé Jarry
The enemy is always invisible; When he becomes visible, he ceases to be the enemy. Two combatants from opposing sides observe each other. Each of them explains why they are fighting – what made them decide to take arms in order to defend their beliefs, their family, their country, their clan or their faith.
Karim Ben Khelifa is an award winning photojournalist and war correspondent who has freelanced regularly for Time Magazine, Vanity Fair, Le Monde, the New York Times Magazine, Stern and dozens of others. He was the 2012 Carroll Binder Fellow at the Nieman Foundation for Journalism at Harvard University, where he has also given talks and lectures.
He is currently a Visiting Scholar and Artist-in-Residence at the Open Documentary Lab at the Massachusetts Institute of Technology in Cambridge.
Chloé Jarry joined Camera lucida as new media producer in charge of transmedia and cross-media development in January 2011. She produced a collection of iPad and iPhone apps mixing games, interactive animations and extracts from the films for children produced by Camera lucida, including Le Carnaval des animaux, Antoine's Four Seasons and Peter and the Wolf. She is also the author and producer of Missions Printemps – Die FruehlingsForscher, a French-German citizen sciences TV and web program. Since 2011, Chloé Jarry and Camera lucida have developed more than 10 transmedia projects.