Sat 17 May 2014
There is a very interesting set of 40 maps that Max Fisher has put together on one website to explain the history of the Middle East. Check it out here.
Below are Map #7 and Map #23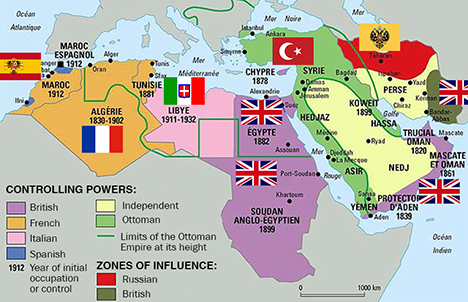 What the Middle East looked like in 1914

This is a pivotal year, during the Middle East's gradual transfer from 500 years of Ottoman rule to 50 to 100 years of European rule. Western Europe was getting richer and more powerful as it carved up Africa, including the Arab states of North Africa, into colonial possessions. Virtually the entire region was ruled outright by Europeans or Ottomans, save some parts of Iran and the Arabian peninsula divided into European "zones of influence." When World War I ended a few years later, the rest of the defeated Ottoman Empire would be carved up among the Europeans. The lines between French, Italian, Spanish, and British rule are crucial for understanding the region today – not just because they ruled differently and imposed different policies, but because the boundaries between European empires later became the official borders of independence, whether they made sense or not.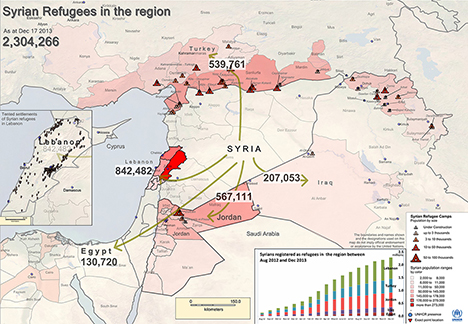 Syria's refugee crisis

Syria's civil war hasn't just been a national catastrophe for Syria, but for neighboring countries as well. The war has displaced millions of Syrians into the rest of the Middle East and into parts of Europe, where they live in vast refugee camps that are major drains on already-scarce national resources. This map shows the refugees; it does not show the additional 6.5 million Syrians displaced within Syria. Their impact is especially felt in Jordan and Lebanon, which already have large Palestinian refugee populations; as many as one in five people in those countries is a refugee. While the US and other countries have committed some aid for refugees, the United Nations says it's not nearly enough to provide them with basic essentials.