Sat 10 May 2014
Posted by sbindaari under
Ethics
,
Poetry
,
Yemen
Comments Off

on An Elegy to the Passage of Time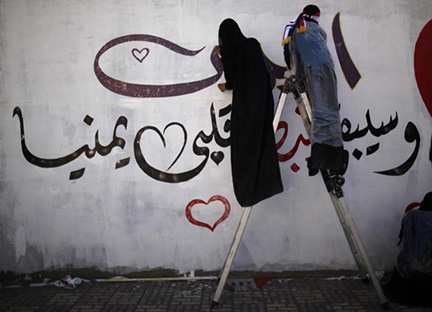 Activists paint graffiti on a wall ahead of an anti-government rally in Sanaa on Feb. 10, 2012. The writing reads "Yemen" and "My heartbeats remain Yemeni."
By Samira Ali BinDaair
Youth is like a flying visit to the land of dreams….where the stars always seem brighter to pauper and prince alike; Youth is the proverbial black and white and tears when they come are like torrential rain and joy is like the summer sun after the winter of the north pole.
There are only beginnings…. events like a beautiful arabesque and a never ending story. Youth is hope that defies destiny…. mountains seem like ant hills….for it is a tempestuous and impatient passage into timeless realms … the journey exciting dreams of greatness….destinations vague.
Youth is also a time when there is no time to listen to the songs of birds or the quiet voices from within. Death is shrugged off as an old wives tale like a genetic engineer trying to find a cure for loved ones….alas, no vaccine to arrest the passage of Time and dying cells.
Middle age is a time when the rose spectacles are gone you are no longer afraid of the grey shades.. It is a time for stock taking of all that youths store….. Reality no longer stabs you in the back like the graffiti of youth…. simply messages to be read at leisure. One is no longer searching for Utopia …signposts firmly fixed on what's left of the journey. Even as the winds of Autumn storm all the trees bare there is still time to admire the different shades of the falling leaves. There is time to listen to the birds at the break of Dawn even as the clock is relentlessly ticking by.
It is also a time when one can wear a crooked hemline …. odd shades of green purple and blue with the confidence of a fashion model… as with bare feet one walks on the soiled pavements… more solid than the fifth avenues of Youth. It is a time when we may mourn youth gone in a wild moment of nostalgia as we go down memory lane ….. remember how we walked with a lighter tread in the rain and weathered all storms with the strength of Khalid bin Waleed. Now our steps falter… our minds wiser… our hearts lying in quiet contentment…. the grass is no longer greener on the other side.
So what do we say if we could not finish this or that…. so what if we could not change the world to our hearts desire? So what if we did not climb all the mountains and now enjoy the quieter joys of the green valleys…. where space is not emptiness and solitude is not loneliness. There is no need to hurry for it is the time for realignment with the self. Between us and final destination is the blink of an eye. We no longer care for the empty pomp of life and the adornment of false idols.
In fear I watch my children brace for the race….standing at the frontline of Life. I want to stop them in their tracks and garrison them in a protective fortress from the rigours of the journey…. but all I do is stand back hold my breath and pray.
Do I want to turn back the clock …. oh no not again…. I had rather share a cup of tea and enjoy a quiet chat with my travelling companion who can laugh with me at youthful follies …. for like me he knows the cycle of life will follow its natural course come what may.