Wed 4 Sep 2013
Posted by tabsir under
Poetry
,
Scholars
,
Yemen
Comments Off

on Père Etienne Renaud: In Memoriam, 3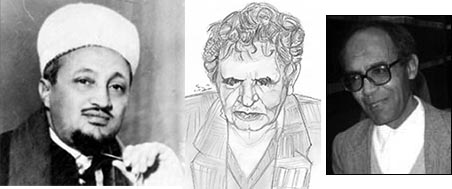 Yemeni poets Muḥammad al-Zubayrī, Abd Allāh al-Baraddūnī, Muḥammad al-Shalṭāmī, left to right
Yemeni Poetry in Translation
[This post continues a thread on the work of the late Père Etienne Renaud. The following French translations of Yemeni Arabic poetry were made by Etienne and are taken from his chapter "La vie culturelle en République Arabe du Yémen," in Paul Bonnenfant, editor, La Péninsule arabique d'aujourd'hui (Paris: CNRS, 1982) Vol. 2, pp. 135-153.]
Nous avons refusé de vivre dans une nation
Foulée aux pieds par ses maîtres
Et nous sommes partis pour échapper à la bassesse
Fuyant la honte
Et combien de serpents rampaient autour de nous
Mais nous avons échappé à leur morsure
— Muḥammad al-Zubayrī, Thawrat al-shi'r, Cairo, 1962.
Amour et souffrance ont mêlé leurs deux âmes
Qu'est le Nord? Qu'est le Sud?
Deux coeurs qui ont rassanblé leurs joies et leurs peines
Ont été unifiés par la haine et par la souffrance,
Par l'Histoire et par Dieu.
— Abd Allāh al-Baraddūnī, Fī ṭarīq al-fajr, Sanaa, n.d.
C'est une femme
Et avec elle l'odeur des champs, et des arbres,
Youtes les belles chansons de liberté …
A la demande de l]aube, elle répond
Qu'elle vient de la montagne.