Sun 12 May 2013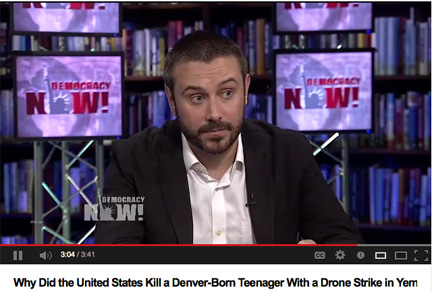 For a brief introduction to a report on the killing of the 16-year old son of Anwar al-Awlaki, check out this brief Youtube video. Here are the details on the video:
Watch the full 50-minute interview with Jeremy Scahill at http://owl.li/klnWN. Abdulrahman al-Awlaki was a 16-year-old boy, born in Colorado, who liked listening to hip-hop and posed as a rapper in pictures posted on Facebook. He was killed by a U.S. drone strike in Yemen two weeks after the Obama administration assassinated his father, the U.S. citizen Anwar al-Awlaki, in a separate strike. Abdulrahman's death is a central part of Jeremy Scahill's new book, "Dirty Wars: The World Is A Battlefield." While the Obama administration has defended the killing of Anwar, it has never publicly explained why his son was targeted. Scahill reveals CIA Director John Brennan, Obama's former senior adviser on counterterrorism and homeland security, suspected that the teenager had been killed "intentionally." "I understand from a former senior official of the administration who worked on this program at the time, that when it became clear that Abdulrahman al-Awlaki had been killed, that President Obama was furious, and that John Brennan, who at the time was … the guy running all of these operations, that Brennan believed or suspected that it was an intentional hit … against this 16-year-old kid," Scahill says.

Democracy Now!, is an independent global news hour that airs weekdays on 1,100+ TV and radio stations Monday through Friday. Check out our vast news archive and stream live 8-9am ET at http://www.democracynow.org.
Leave a Reply
You must be logged in to post a comment.