Wed 13 Mar 2013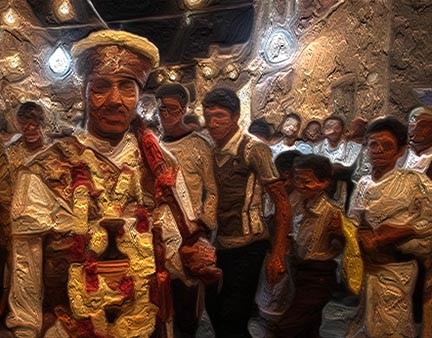 Yemenis seeking American citizenship pay exorbitant dowries in lucrative marriages of convenience
by Nadia Haddash, Yemen Times, March 7, 2013
Getting a visa from the American embassy in Sana'a is not easy for Yemenis hoping to travel to the U.S., and is especially hard for young, single men. So, many seek an alternative route: marrying a Yemeni-American woman.
By doing so, they typically become American, too, but could be in debt for years—they often have to pay huge dowries for their dual citizen brides.
Walid Al-Asimi, 28, met his wife, a Yemeni-American, in an English institute in Sana'a.
"When I knew that she would travel to America I decided to marry her," he says. "I was surprised when her father asked me to give $30,000 as a dowry."
The majority of Yemeni youths who marry women with dual citizenship pay very high dowries, ranging between$10,000-50,000, or around YR 2 million- 11 million. By comparison, a typical dowry paid to a bride's family in Sana'a is around $4,000 or YR 800,000. The dowry paid to brides' families in rural areas of the country is much less still.
But Al-Asimi wasn't deterred by the high price his bride demanded. He borrowed money for the dowry, a considerable amount for him at that time. He lives in the U.S. now, where he's working to repay his debt. A decision he says was worth it.
In some families, these marriages are a kind of tradition.
Wadhah Al-Esaie, 31, is in the final stages of engagement to his bride-to-be, a dual citizen from Yemen and America. "I don't know her and she doesn't know me at all," he says, which he says is quite normal. It is not uncommon for betrothed to never have met, marriages in Yemen are traditionally arranged through families, although social norms are quietly changing.
With the elusive promise of an American passport, Al-Esie hopes to move to the U.S., where he intends to work.
Other members of Al Esaie's family have married into the same in order "to improve their living situation," he explains. "This type of marriage has made a lot of my relatives more comfortable and satisfied."
Not all Yemeni-American girls want to be married off like this, though.
Sondos Al-Ariqi, a young Yemeni-American woman, sees these marriages as exploitative. They're being taken advantage of, she says.
"I know several friends at Michigan State [University] who were forced to get married to people they don't know," she said. "Their high dowries go to the pockets of their fathers."
Rising unemployment and general instability in Yemen lead many young Yemenis to get married in this way, said Dr. Abdul-Adheem Al-Faqeeh, a specialist in social science at Sana'a University.
"I can't blame Yemeni youths who resort to this type of marriage because they have no choices to improve their situation," he said. "They only seek a life with dignity and where law and order is enforced."
Still, these marriages of convenience don't always have a happy ending.
Mohsen Al-Riyashi, 24, married a Yemeni-American woman 10 months ago. He regrets it now.
"I was influenced by some of my friends who got married in this way. They painted a rosy picture of this type of marriage. I gave YR 2,500,000 [about $11,000] as a dowry," he said.
"I could've invested that money instead."
Leave a Reply
You must be logged in to post a comment.