Fri 4 Jan 2013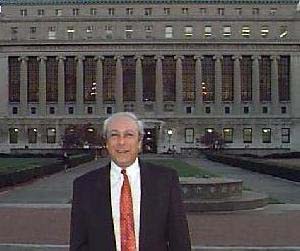 Poems by George Nicolas El-Hage
Translated from the original Arabic by Diana Malouf and George El-Hage
Introduction by Khalil Semaan, Binghamton University.
George Nicolas El-Hage was born in Mansourieh, near Beirut, Lebanon. He was educated at the Lebanese University of Beirut and in the United States where he earned an M.A and a Ph.D. in Arabic and Comparative Literature at Binghamton University in N.Y. His Dissertation (later published into a book by NDU Press, Lebanon) was on William Blake and Kahlil Gibran: Poets of Prophetic Vision. He has taught at Yale University, Binghamton University, The Lebanese University, Columbia University, Monterey Institute of International Studies and the Defense Language Institute. His academic career was equally spent between teaching, authoring, lecturing and administration.
He published five volumes of poetry, numerous research articles, books on language pedagogy and poetry in Lebanese Dialect and Zajal. While in Beirut, El-Hage studied with and was influenced by poets like Buland al-Haidari and Khalil Hawi. His poetry betrays a marked fluctuation between a deep romantic sensitivity and a tragic existential awareness which colors his reading of current universal and regional events. The tragedy of his embattled country constitutes a dominant theme in his writings. El-Hage is a supporter of the free verse movement in Modern Arabic Poetry. Nevertheless, he still appreciates the Qasida 'Amudiyya, the classical form of traditional Arabic Poetry. He always chooses short meters and his poetry is characterized by its musical effects.
From El-Hage's book of poetry: If You Were Mine
From the INTRODUCTION
No, I shall not tell you that I became a poet. The day I read joy and sadness in your smile and witnessed the sun rising in your eyes, I abandoned my heart, crucified on the ivory ramparts of your face, and setting sail, I strove to navigate the deep waters of inspiration. That day, I discovered my inner self in the mirror of your pure love, and I vowed to tell you this in words. These are some of them.
You are aware that I consider myself responsible before you for the many words yet left unsaid, more so than those recounted.
Possibly my arrival would be delayed tomorrow. I must prepare myself well. The journey for a poet is long and provisions costly and burdensome.
Perhaps I would find you watching for me and would forget the hardships of travel. Perhaps the sun could have set in your eyes, your black lashes drawing the curtain on the windows of waiting. I know I would be plunged in sorrow. For I have made all the preparations. I would leave the memory of my anguish planted in a tear and write upon its looking-glass: "If you were mine."
SUFIYYA – A short mystic poem
Walk with me
To the vale of ecstasy
You are desire
Do not blush
Love is leading us.
In your hair are waves
More beautiful than the hill's crest,
Or down-curving slopes
A birdsong still warbles in your heart
It was ours
Do not be afraid, say yes
Love is leading us.
SURPRISE ATTACK
Sway with the breeze
Bow like a lily
Disdain wounds
Become buds
Scattering spring
And light
Stopping tears
And gales
Descend softly with the dew
Become a mound of anemones
The color of my blood
Attack the gardens
Regain your tranquility
My queen
Penetrate the darkness of eternity
Put your arms around the waist of space
The minutes are impregnated
The gardens would be born
Soar with the echo
Be born as you desire
Sister of dawn
Torture hearts with love
Put out the stars of your sky and the moon.
Light anxious eyes
To illuminate your world
Even if the day explodes in fury
Killing itself
Tame wild mares, and meadows
And shadows, tame the multitudes
Pile yourself up
Like autumn's notebook
Turn inward
Embracing the void as you fall
Couple with the soil
Become heavy with grapes
Sink your roots into my breast
Deep as the carefree shaking
Of a bird's wing
By the roadside
Or a pulse from within the earth's darkness
Teach me of the seen
And the unseen
Let your fragrance perfume the wind
Like frankincense
Or dahlias
Become the lines in my hand
For you are the ecstasy of beauty
In my poems
Open within me
Like a star
Like a smile
Watch over my portals
Like a breeze
Fill my windows
Scatter the day
Fill my temple
Become flesh
If only once, become flesh
You would delight in being
The substance of matter, and madness
In enraptured eyes
Attire yourself in the form of letters
And their curves
Tint the syllables
For your garment of beauty is blue
Giving the sky its color
In my hand is a plume
Melting between my fingers
Dripping letters
And blood.
to be continued
Leave a Reply
You must be logged in to post a comment.