Tue 8 Jan 2013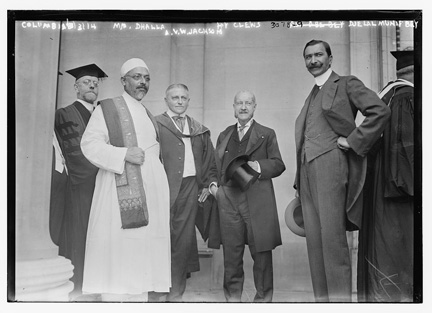 This photo shows Jackson with his student Dhalla, the financier Henry Clews (1836-1923), and Djelal Munif Bey (d. 1919), the Ottoman Consul General in New York. The other two men are unidentified.


The Columbia University Seminar on Religion and Writing and the American Institute of Iranian Studies are pleased to announce:
ISLAM IN THE COLUMBIA CURRICULUM, 1886-2012: FROM ORIENTAL LANGUAGES TO AREA STUDIES AND RELIGIOUS STUDIES
Thursday, January 31, 2013
Faculty House (400 West 117th St)
The one-day conference will explore the history of Islamic Studies in North America in general, and at Columbia University in particular. Its starting point is the observation that Islamic Studies slipped into the Columbia curriculum when in the late 1880s Oriental languages were first added to the fledgling University's course offerings. For a detailed schedule, please see the conference website at
https://researchblogs.cul.columbia.edu/islamicbooks/religionwriting/conference/
The conference accompanies the exhibition "Collecting Oriental Books for the Columbia Libraries, 1886–1936" in Columbia's Rare Book and Manuscript Library. The exhibition explores the beginnings of the University's Islamic book collections, and will be on view in the Chang Octagon from December 19, 2012 until March 2013.
This conference is open to the public, but we request that you register, as seating is limited. Please RSVP to icc1886@gmail.com.
For further information contact icc1886@gmail.com.
Leave a Reply
You must be logged in to post a comment.