Sun 30 Dec 2012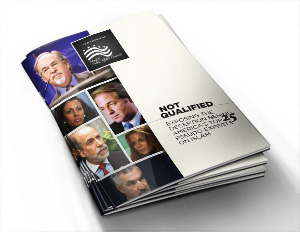 [Click here to download the recent publication of the Muslim Public Affairs Council exposing the lack of credentials of the [mis]leading Islam[ophobic] experts.]
For the benefit of national security and the American public at large, we must ensure that those people speaking about terrorism perpetrated in the name of Islam are qualified. At a minimum, individuals who speak about Islam and its co-opting by violent extremists need to be properly informed and qualified.
To date, groundbreaking research into the anti-Muslim hate industry has been conducted by the Center for American Progress and the Southern Poverty Law Center. Their research focuses primarily on anti-Muslim hate activists' sources of funding and their possible connections to other forms of hate. No study that we know of has focused on the qualifications of the so-called experts on Islam and Muslim violent extremists.
This study seeks to fill in this research gap by focusing the academic qualifications of 25 individuals who comprise some of the most vocal voices and activists in the anti-Muslim circuit. We specifically focus on highly visible personalities who engage in anti-Islam rhetoric and who frequently and inaccurately speak not only about extremist Muslims, or even Muslims at large, but who also claim to be knowledgeable about the fundamental beliefs and tenets of the Islamic faith.
The study asks the question: Do these individuals have the formal academic credentials to back their explicit and implicit claims of expertise on Islam?
One Response to "Not Qualified: Exposing the Deception Behind America's Top 25 Pseudo Experts on Islam"
c. khazzani Says:
December 30th, 2012 at 1:46 pm

The research conducted by MPAC is quite revealing indeed. What it shows actually is the growing public image of a new breed of pseudo-intellectuals, animated by a ceaseless hatred for Islam and muslims alike and hell bent on tarnishing the image of Islam both within and outside the US. It's rather a blow to most readers and observers to know that 24 out of 25 anti-islam would-be experts have no such an usurped expertise about Islam, as a faith and a social organization embraced by more than a billion of world population. What is more striking is that some, amongst those' Islamophobes', are turncoats who happened to live in the Arab world but found in the states' fertile liberal space a voice of their own, only thing is that it is a barely recognizable, though harmful if let propagate amidst US public circles, voice of the kind circulating in major Anti-Islam papers and public venues in the US and abroad. If this plethora of think-tank trouble-makers are mere enemies to Islam and Muslims and oblivious to the true essence of islam , as a faith, what else explains their zealous bickering over the fabled harm Islam intend for US secular values? I can't see more than profit-making and a cynical endeavor to turn anything Un-american into some sort of boogey-man that haunts American imagination and needs to be laid to rest once for all. It is enriching an experience to be able to re-examine beliefs and faiths, without an exception, but as long as such a re-examination is done by qualified scholars and intellectuals eager to display their intellectual prowess and cognitive knowledge, required by the ethics of academia for the serious and scientific understanding of a complex phenomenon as Islam. To hide behind false pretense and appropriate titles which are not theirs, is mean and should be discouraged by organizations and bodies similar to MPAC.
Leave a Reply
You must be logged in to post a comment.