Thu 6 Dec 2012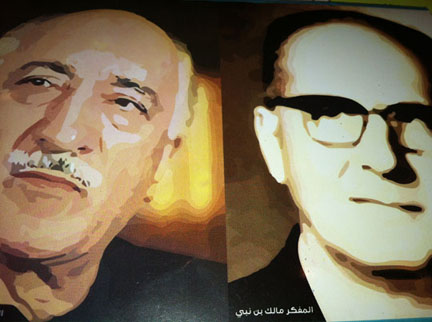 Notes from Algeria and Turkey — Charting the Modern Face of Islamic Civilization and Democracy in a Global World
by Bruce Lawrence, Transcultural Islam Research Network, November 30, 2012
What can we learn from an aging Turkish Imam with a pan-Turkish cultural movement to his name and a deceased Algerian philosopher — both of whom command attention as devout Muslims and men of science — about civilizational rebuilding in the modern era?
Scholars gathered in Algiers from Nov 21-22 at the College of Islamic Sciences at the University of Algiers to find out.
"The Philosophy of Civilizational Rebuilding, according to Malek Bennabi and Fetullah Gülen: Guidelines for Creative Thinking & Effective Action" was the theme for the conference, and I was invited to give a paper on this weighty subject.
I had been teaching in Istanbul during Fall 2012. My assignment there had been to train graduate students, both Turkish and non-Turkish, in theories and methods that apply to civilizational studies.
I had also been traveling and giving lectures elsewhere in Turkey, including a memorable lecture to 400 students at Mustafa Kemal University in Antakya — where the topic was Islam and Global Civilization and included a survey of constitutionalism, citizenship and cosmopolitanism, along with numerous approaches to Islamic civilization in the crowded marquee of world civilizations that claim to be both global and universal.
Just who were Fethullah Gülen and Malek Bennabi? Why was their thinking paired to address the topic of civilizational rebuilding, and how would their views advance an initiative that spanned centuries and engaged some of the best minds, from Ibn Khaldun in late 14th century North Africa to Arnold Toynbee in mid-20th century Britain?
Bennabi is Algerian, Gülen Turkish. While Bennabi was trained in Paris as an electrical engineer, Gülen promoted science as a zealous spectator. Inspired by the ideas of the Turkish mystic and renowned Qur'an commentator, Bediuzzaman Said Nursi (d. 1960), Gülen embraces science as a divine gift. He also advocates science education, especially mathematics and physics, independent of religious instruction.
The major difference between Bennabi and Gülen is instrumental. While Bennabi, a prolific Algerian writer and philosopher, did not form a movement, Gülen, also a prolific author, became the catalyst and icon for a movement named after him.
The Gülen movement was initiated by Gülen in the 60s, went nationwide (Turkey) in the 80s, and globalized by the 90s through educational initiatives in many countries including in Central Asia (following the collapse of the Soviet Union), and later in Europe and the U.S.
The movement has opened more than 500 schools in about 100 different countries, and now has an international media group and a business network to its name.
And, it is a movement that is inseparable from the intense debate in Turkey about Islam and democracy. The ascent of the Gülen movement paralleled, even as it anticipated and, some would say, fostered, the rise to power of the AKP —the pro-Islam ruling party in Ankara since 2002. With Gülen schools, newspapers and TV programs occupying prominence in the Turkish public square, the Gülen movement has become renowned — and in some quarters feared — for its ability to project Turkish nationalism with Islamic devotion to all parts of the globe, including the U.S.
Controversy and the Gülen Movement
For those unfamiliar with Gülen or the movement named after him, there are two recent reports highlighting both the man and the movement. One, prepared by Claire Belinski, offers an alarmist review of the Gülen schools; see its dire warnings here. The other comes from CBS; Leslie Stahl's more measured interview on Sixty Minutes.
Both these veteran journalists call attention to the secretive nature of the Gülen organization. Its short-term goals seem laudable (who could object to better science education?), but there are no precise figures on the scope or size of the movement, nor have its leaders provided a public statement about either its finances or its long-term goals.
And so suspicions of the movement's intentions abound, as both Belinksi and Stahl make clear, particularly as regards the methods and approach of Gülen schools toward religious instruction. Many academics say the Gülen movement is promoting a pan-Turkish cultural agenda, while other educators wonder if the Gülen movement isn't exporting Islam (especially in the US) via schools that claim to be secular and receive government funding.
While secularists in Central Asia, the U.S., Europe and even Turkey, are the most fearful, there are other, equally devout Muslims who claim that the movement is too compromised by its continuous engagement with secular politics and practices.
There are about 120 schools started by followers in the US (as of 2011) — mostly in urban centers in 25 states, and these schools account for one of the largest collections of charter schools in America according a New York Times investigative piece published last year.
[For more on the nature and problems of the export of Gülenist education, a general overview of the movement's role in domestic politics, as well as overseas educational projects, see the comprehensive study by Berna Turam, Between Islam and the State: The Politics of Engagement (Stanford University Press, 2006).]…
For the rest of this article, click here.
Leave a Reply
You must be logged in to post a comment.