Fri 17 Aug 2012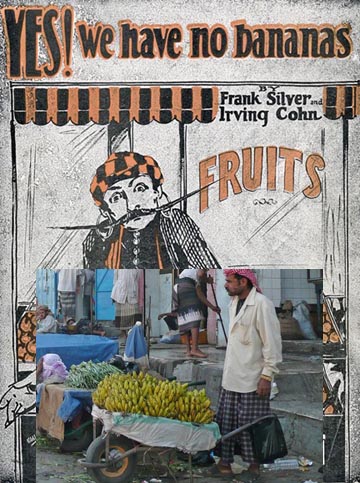 One of the great novelty Vaudeville songs of the early 20th century was "Yes, We Have No Bananas," a number one hit for the singer Eddie Cantor in 1923. I have the Edison 1923 recording sung by Billy Jones, Arthur Hall and Irving Kaufman, which is also on Youtube. The song made fun of Italian accents, like the one my Sicilian Grandfather no doubt had as a boy. But it seems that in this case, almost a century later, unlike the Little Italy vendor in the song, Yemen does have bananas and very good ones at that.
Here is the report from Yemen's Saba News Agency:
Yemen comes first among 45 countries exporting bananas

SANA'A, July 24 (Saba)- Yemen has came the first among 45 countries exporting bananas at the Regional Roundtable for exporters of banana products, held in Geneva during the period (July 20-21).

Yemen has sent varieties of bananas from some farms in the Yemeni provinces famous for the production of bananas, through the U.S. Agency for International Development (USAID), which is the mediator for this product in the Regional Roundtable for exporters of bananas, Official of the agricultural export activities at the Small and Micro Enterprises supported by the Social Fund for Development, engineer Samar Abdullah, told Saba.

Samar said that this win motivates the banana growers in Yemen to compete in the improvement of banana production and its cultivation as it has health benefits, and enables Yemen to enter into the global markets of bananas exporters.
Leave a Reply