Wed 8 Aug 2012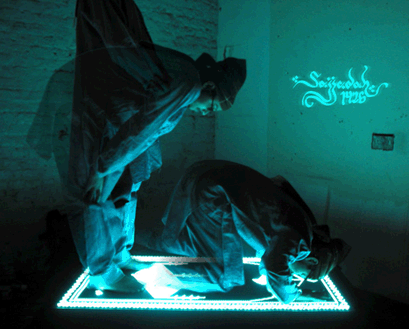 Muslims are obligated to try and find the direction (qibla) of Mecca for prayer. Although this may be a heavy duty at times, new technology will lighten the effort. Specifically, how about an idea that almost seem to come out of the Arabian Nights. Imagine a prayer rug that would not fly you to Mecca but would light up when it is properly oriented to Mecca, no matter where you are on earth. This is the aim of EL Sajjadah. Here is how it is described on the website:
EL Sajjadah is an illuminating prayer mat that lights up when facing Mecca.

'EL' stands for 'Electro Luminescent' and 'Sajjadah' means 'Prayer Mat'. EL Sajjadah is thin and flexible. You can roll it and carry it around in its special case.

EL Sajjadah is not only a functional / practical product but also a unique art piece that you can hang on the wall as a night light.
My only suggestion is that you not try to prayer while it is hanging on the wall …
Leave a Reply