Wed 23 May 2007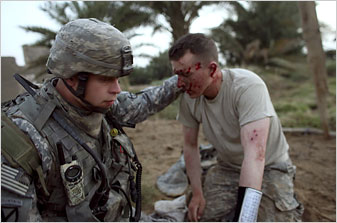 [Photograph by Michael Kamber for the New York Times.]
While the news media feed on the battle between congressional democrats and the Bush administration over the war budget, the war continues day by day with no congressionally prodded end in sight. The war in Iraq also dominates the field of political play for the next presidential election, with Bill Richardson declaring his candidancy yesterday and in no uncertain terms blasting the current war policy. But in all of this the war does not really reach us. Yet it is possible to reach out and feel some of the pain of the war. In today's online New York Times, Michael Kamber, a photographer, provides a slide show of an attack on an army unit in which an American soldier was killed. I suggest you ignore the talking heads of politicians today and see for yourself the agony of loss on a battlefield with no visible enemy. Don't wait to see the name in the paper; absorb the context that took a life needlessly to satiate the ideological appetite of the current lame duck (pun intended) administration.
Daniel Martin Varisco
Leave a Reply
You must be logged in to post a comment.