Mon 24 Oct 2011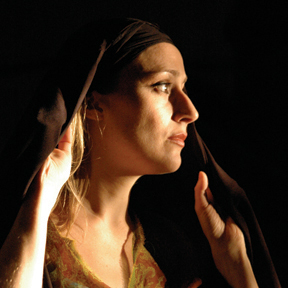 "Art as Cultural Diplomacy – performance and talk with Heather Raffo"
Wednesday 10/26, 8PM in the Cultural Center Theater
as part of the Day of Dialogue
Celebrated actress and Playwright Heather Raffo comes to Hofstra University for discussion about the role theater plays in our understanding of contemporary war. Through the performance and discussion of selected monologues from her acclaimed play 9 Parts of Desire about the lives of Iraqi women, Raffo, takes the audience deep into the heart of why theater can best communicate the complex issues still facing Iraq and America today.
Heather Raffo is the recipient of a Susan Smith Blackburn Prize Special Commendation and the Marian Seldes-Garson Kanin Fellowship for her play 9 Parts of Desire. Most recently she has received a 2005 Lucille Lortel award for Best Solo show as well as an Outer Critics Circle Nomination and a Drama League nomination for Outstanding Performance. Premiering in 2003 in, Edinburgh, the play then moved to London, where critics hailed it as one of the five best plays in London in late 2003. It ran for nine sold out months in New York City before touring the U.S. and internationally. Heather has also performed widely in a range of celebrated productions in NY and beyond, earning a Drama League Nomination among other accolades. She has also offered discussion-presentations in a variety of educational settings. She received her BA from the University of Michigan, her MFA from the University of San Diego and studied at the Royal Academy of Dramatic Art, London. Originally from Michigan, Heather now lives in New York. Her father is from Iraq and her mother is American. For more information, see http://www.heatherraffo.com/
Co-sponsored by the Women's Studies Department, Middle Eastern and Central Asian Studies Program (MECA), The Center for Civic Engagement, Comparative Literature and Languages, and Dance and Drama
Leave a Reply
You must be logged in to post a comment.