Thu 18 Aug 2011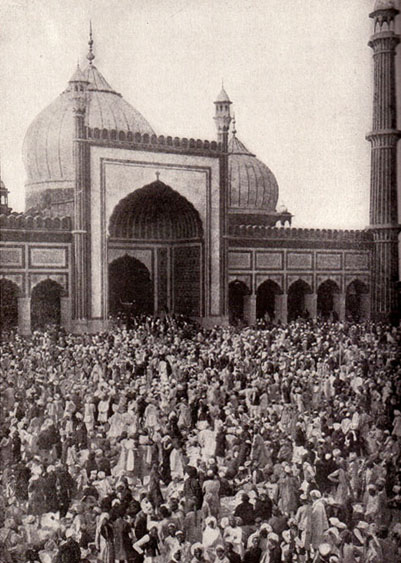 "The Jama Masjid at Delhi, India. This is India's greatest mosque and is the second largest in the world. It was built by Shah Jehan in the first part of the seventeenth century and possessed a sacred relic, a hair from the beard of the prophet. The illustration shows a crowd in the court and which is 325 feet square, dispersing after meeting at prayers."
Exactly 90 years ago a four-volume set of encyclopedia-like human interest books was published as The Human Interest Library: Visualized Knowledge by Midland Press in Chicago. In a previous post I commented on its thoroughly "Orientalist" flavor. The section on "The Ancient Empire of the Moguls" covers mainly the exotic cultural diversity of India. Few countries have been exoticized more than India, and this Cyclopedia is not exception:
How may be described this soul of India: It is something shy, timorous, wistful and appealing. It does not greet you with the rugged strength and boisterous self-confidence of Dover Cliff, or with the passionate sweetness of Italian hills, or with the sunburnt cheerfulness of France. It creeps towards you like a spaniel that fears to be scolded and hopes to be caressed. It is a little guilty and ashamed, as though it had stood for ages and ages with its face to the corner, and only now had received permission to turn round and face the world. You cannot say it is beautiful, but you would be blind of both eyes if you pronounced it dull, ugly, uninteresting. Contemplate slowly and thoughtfully this soul of India, and you will say at last that it is the saddest, quietest, gentlest, and most timorous soul in all this world's mysterious geography. (Volume 4, p 221).
Well, at least it is recognized that India has a soul, even if it is an inferior one to European climes. But then later on in the same article we find the subtitle: "The Splendid Work that England is Doing for India." And here is that work:
And India is waking up. Quietly and without excitement she is putting back the blankets of custom, raising her head from the pillow of superstition, and looking with slowly opening eyes towards the new sun of freedom and enterprise. The traveler finds nearly all the comforts of Europe in the new cities. The hotels have elevators, electric lights, bath-rooms, and French cooks. There is proper water-supply and system of drainage. Indians have their clubs, and play cricket, polo, and tennis. At almost every railway station there is a good refreshment-room and a large waiting-room fitted with lounges and armchairs, where a traveler may pass the night and take a bath in the morning free of charge. And though things are rather dearer than they used to be, a man may still live luxuriously in India on money that would render life hard and troublesome elsewhere. The peasant keeps a family on five cents a day; the factory hand is rich with twelvecents a day; and the school-master is a Croesus with four dollars a month.
A colonial bargain; hail to the Raj.
Leave a Reply
You must be logged in to post a comment.