Sun 26 Jun 2011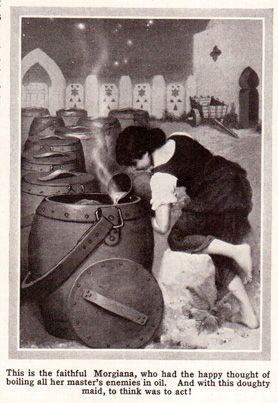 [With this post I continue a series dedicated to photographs in an "Orientalist" mode. In addition to Reading Orientalism (which is also the title of my last book), the creation of an imagined Orient is very much a pictorial voyeuristic voyage. In this series I focus on Western images of the Middle East and North Africa, both those that perpetuate stereotypes and those that chip away at the bias. Readers of the blog are welcome to send in images they have found and want to share.]
I continue with images from a 1933 edition of Richards Cyclopedia, with 24 volumes published in New York by J. A. Richards, Inc and edited by Ernest Hunter Wright and Mary Heritage Wright. This is an unusual encyclopedia, arranged by topics in a more or less arbitrary order but replete with images. One of the articles is called "The Mtchless Story-Teller" (vol 18, pp. 4433-4448) and retells several of the more famous tales from the Arabian Nights. In the story of Ali Baba and the Forty Thieves the plot to learn the secret of the cave from Ali Baba unfolds with a slave girl named Morgiana pouring hot oil in the vats where a number of robbers were hiding. But the reader is assured in the caption that it was a "happy thought" to so dispense with the troublemakers. Ah, how Orientalist to assume this part of the world has oil to burn…
to be continued
2 Responses to "Orientalist Images #3: Oil as a Happy Thought"
A Muhammad Ma`ruf Says:
June 28th, 2011 at 8:52 am

Thanks for the picture. I have wondered what those Middle Eastern barrels looked like at that time.
These look more elaborate than I had imagined.
The clothing on Morgiana does not seem right. But I suppose for 1933 it was adequate.

It is supposed to be night time when this part of the story took place. Maybe the moonlight was very bright that night.

Roger Says:
July 1st, 2011 at 5:48 am

"Ah, how Orientalist to assume this part of the world has oil to burn…"
Not to burn, but cooking oil. Mind you, I doubt if Ali Baba reused the oil after it had been used to cook deep-fried robbers. The events are supposed to take place in a cellar. The picture (hardly a photograph in an "Orientalist" mode) shows a certain artistic license. Indeed, it is rather unorientalist except for the background, which is probably why the setting had to be changed to outdoors to make it plain it took place in Arabia.
In fact the original Arabian Nights, with stories set in an imaginary China and the Baghdad of Haroun-al-rashid, shows a kind of proto-Orientalist attitude to the world- elsewhere as a kind of fantastic Never-Never Land.
Leave a Reply
You must be logged in to post a comment.