Tue 14 Jun 2011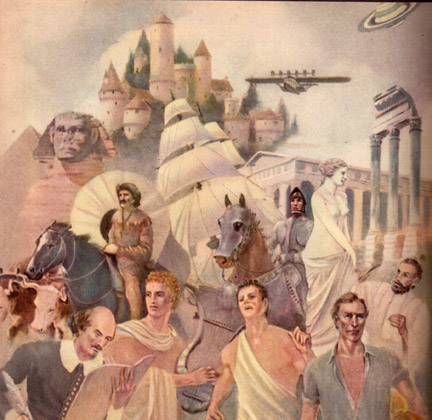 Half of the painting for the inside cover of Richards Cyclopedia, by Edwin Winfield Hall

[With this post I continue a series dedicated to photographs in an "Orientalist" mode. In addition to Reading Orientalism, the title of my last book, the creation of an imagined Orient is very much a pictorial voyeuristic voyage. In this series I focus on Western images of the Middle East and North Africa, both those that perpetuate stereotypes and those that chip away at the bias. Readers of the blog are welcome to send in images they have found and want to share.]
I continue with an image from a 1933 edition of Richards Cyclopedia, with 24 volumes published in New York by J. A. Richards, Inc and edited by Ernest Hunter Wright and Mary Heritage Wright. This is an unusual encyclopedia, arranged by topics in a more or less arbitrary order but replete with images. The inside cover, half of which is shown above, is a collage of cultural references. Across the top one finds the beginnings of civilization (at least in the thinking of the time) in the ancient Egyptian pyramid and sphinx, with a towering medieval castle above and both a modern airplane and image of Saturn looking down on ancient Greece, where a beautiful half-naked Grecian standing odalisque butts up against a knight in shining armor. There are ships and covered wagons in this pictorial representation of manifest destiny. The part not shown is distinctively American progress, though with a Maharajah inexplicably riding an elephant in front of a giant oceanliner.
One of the articles is called "The Green Girdle of the Sahara" (vol 18, pp. 4631-4636). The subtitle is: "What Men Live Now along the Northern Strip of Africa, Where the Egyptians Started the Clock of History and Where Grim Carthage Used to Frown across the Sea at Rome?"
When the article was written North Africa was very much a colonized portion of the globe. Here is how the article describes the European takeover:
With the end of piracy and the French conquest of most of North Africa, the Barbary Coast was split into small political divisions we find there to-day. To the extreme west lies the tiny Spanish province on Rio de Oro – River of Gold – a name expressing the early traders' hopes of finding treasures – hopes doomed to disappointment. Spain annexed Rio de Oro in 1885.

Next to Rio de Oro lie Morocco, Algeria, and Tunisia, all French possessions. These states have long been known for their fine leather, and besides, they produce dates, oranges, nuts, lumber, grapes, wheat, and barley. Algiers (âl-jêrz'), capital of Algeria, is a famous winter resort for tourists, who may see there an outpost of oriental civilization in the West.

The Italian Libya, now called Tripoli, includes Tripolitania and Cyrenaica, each named after a famous city…
to be continued
Leave a Reply
You must be logged in to post a comment.