Sat 27 Nov 2010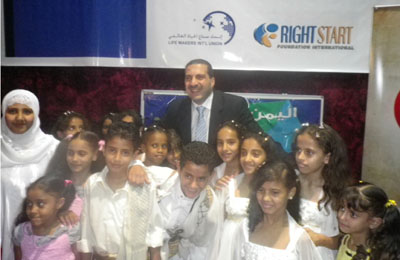 The Egyptian televangelist Amr Khaled with a group of young Yemeni performers at the opening ceremony of a new campaign to combat religious extremism in Yemen. Yemen Times photo
by Tom Finn. Yemen Times, November 25, 2010
ADEN, Nov. 23 — A campaign has been launched by the Yemeni government to win over Yemeni hearts and minds, in a battle to confront extremist ideology and favour Islam's moderation.
The project was launched on Wednesday at an opening ceremony in Aden attended by the Deputy Prime Minister and representatives from the Ministries of Tourism, Culture and Justice.
As well as an array of performances by Yemeni children, the ceremony included a speech by Amr Khaled, the world renowned Egyptian televangelist, whose organization, the Right Start Foundation, will be leading the two week project to confront religious extremism in Yemen.
On Thursday, hundreds of 'youth leaders' from across Yemen will come to the capital Sana'a to receive training from Amr Khaled and his foundation on how to establish youth projects that confront extremism.
"We wish to establish a public movement that is self-assembled by Yemeni youth to confront extremism," Amr Khaled told local journalists at a press conference in Aden on Wednesday. "Our campaign will have delegates confronting extremism in every city and governorate in Yemen."
The second week of the campaign will be focused on the instruction of Yemen's Imams. One hundred renowned preachers and scholars have been selected to receive crash courses in 'moderate preaching' under the supervision of Amr Khaled and aided by the Ministry of Endowments. The chosen Imams will also meet with some penitent extremists who have re-accepted moderate ideology.
"With the combination of a well educated and conscientious youth and mid-way scholars we can build a strong future for Yemen," Ahmed Sa'ada, a project manager at the Right Start Foundation told the Yemen Times.
A group of icons from the world of Islamic preaching have accompanied Amar Khaled to embark on an extended media campaign to re-buff Al-Qaeda's ideology and direct the Yemeni people on the ideas of temperance and moderation. Aided by the Ministry of Information, they will deliver a string of speeches propagated through Yemen's media outlets, forums, websites, mosque pulpits and television channels.
On Friday, Amr Khaled will be delivering a sermon entitled "Moderateness and the Mid Way of Islam" at the Al-Saleh Mosque in Sana'a with around 30,000 people expected to attend.
The campaign, which has received financial support from the government-funded Saleh Foundation, represents the first such attempt at using Islamic rhetoric to bolster its campaign against an increasingly insurgent Al-Qaeda.
"Violence does not succeed in confronting violence, and governments alone will not succeed in confronting it," said Amr Khaled. "This is a chance for the moderates, who represent the vast majority in Yemen, to present their views to the Yemeni people."
Leave a Reply
You must be logged in to post a comment.