Sun 28 Feb 2010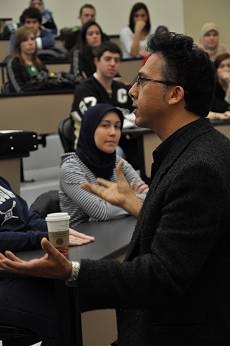 Dr. Jamil Khader, Stetson University
A little more than a week ago a story was reported about an experiment at Stetson University by Professor Jamil Khader. The idea was for 15 coeds to wear veils and see the reactions of their fellow students. But that is only part of the story. First read the story, then check out the comments by the readers. The comments are somewhat chilling, demonstrating once again the extraordinary extent of Islamophobia out there.
Stetson students don veil for diversity experiment
By MARK HARPER, Dayton Beach News Journal Online, February 11, 2010
Education writer

DELAND — For five days, Andreana Mangie wore a pink veil on and around campus.

At the student union, people stared at her. Another student in line near her told another, "Muslims aren't worth anything." She was denied entrance to a party.

"This needs to be thought about," she told a group of about 150 students Wednesday. "This is a big deal."

Mangie was one of about 15 Stetson University women to participate in the experiment dubbed "Veil for a Day" by Jamil Khader, a professor of English and gender studies. The women discussed their experiences as part of the DeLand school's Town Meeting on Diversity.

The university canceled classes Wednesday so students could, for one day, go outside their comfort zone and learn about others. Other sessions touched on residence hall life, environmental justice and "How We Live Homophobia."

Mangie, an 18-year-old freshman from Sarasota, learned of the veil experiment in an English class taught by Khader, a Palestinian from Israel whose mother and sister choose to wear veils.

Not all Muslim women wear veils. The practice is complicated and controversial in the East, Khader said, and largely misunderstood in the West.

Mangie recalled how a Muslim friend she had in fifth grade left school after the attacks of Sept. 11, 2001, for fear of reprisals. And like a lot of Westerners, Mangie said she had associated the veil — sometimes called a hijab — with oppression of women, but her experience showed her something different.

"I don't feel oppressed," she said. "You can see my face."

Sophomore Amy Neubauer said the reaction she got from wearing her blue veil was mixed.

While one woman cornered her and talked about how "those people" treat their women, Neubauer was flattered by a male friend who told her she looked "beautiful."

Camellia Arab, a senior international business major from Deltona, was interested in the experiment because her father is from Iraq, although she wasn't raised Muslim.

When she got her black veil, she didn't even know how to put it on. She and a friend watched how-to videos on YouTube and realized the veil "was kind of a fashion statement."

Some of her father's relatives wear veils.

"I feel there is a stigma," she said. "All of my relatives are Ph.D.s and doctors or teachers. It's not oppression. It's a personal choice, a religious choice."
The comments take the cake, unfortunately. Here is one, but click here to read the others.
#4 trippy – alabama – 2/11/2010 5:33:00 AM
Get real with your little social injustice experiment and fly your liberal butt to Saudi Arabia. See what social injustice is all about. wear even a modest one piece bathing suit and get your head cut off or 500 lashes. Then get an A in your class awarded in your loving memory. Sheesh, what stupidity you colleges are spewing.
4 Responses to "Diversity and Perversity"
Leave a Reply
You must be logged in to post a comment.