Sun 31 Jan 2010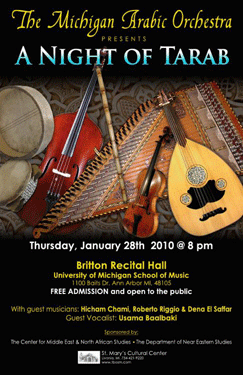 Arab Music on American Soil: How Music blends Arab Heritage with American Culture
by el-Sayed el-Aswad, United Arab Emirates University
Music is the key not only to understanding various ways of cultural expression and social communication, but also to comprehend peoples' views of their identities and heritages. In her book, Philosophy in a New Key (1942), the American philosopher, Susanne Langer, states that music is a highly articulated mode of expression symbolizing intuitive acquaintance of patterns of existence or life that regular language cannot express. For her, music represents the composer's knowledge of the morphological and symbolic forms of emotional life. Such statements were embodied in the behavior of both the musicians and audience participating in A Night of Tarab, organized by the Michigan Arabic Orchestra, on Thursday, January 28, 2010 at Britton Recital Hall, University of Michigan, Ann Arbor.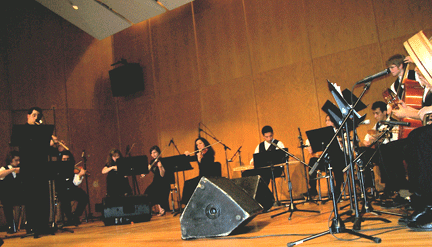 Michael Ibrahim, playing the flute (nay), with the ensemble
Michael Ibrahim, a young composer and musician of Syrian descent born in Michigan, is the director of the Michigan Arabic Orchestra (founded in September 2005) and founder of Ahwak (a classical Arabic ensemble based in Dearborn). Michael Ibrahim, through composing and performing music, profoundly represented the vibrant and dynamic aspect of classical/traditional Arabic music inspired by the legendary Egyptian composer/singer Muhammad Abdel Wahab.
Ibrahim with his nine ensemble members and four guest artists including the singer Usama Baalbaki, who sung three songs ("al burtuqal", "Sitt el habayb" and "Ya imsafir wahdak") that were composed by Muhammad Abdel Wahab, evinced the authenticity of Arabic music that transferred the audience into the mode of musical ecstasy or tarab.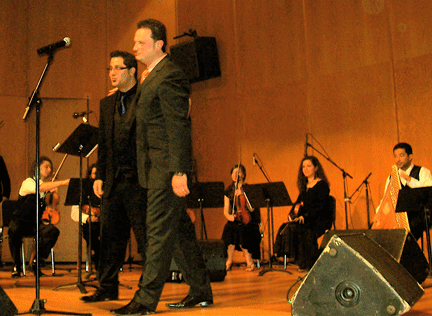 Michael Ibrahim, left and Usama Baalbaki, right
More than 400 individuals from Middle Eastern, American and other backgrounds attended the concert. Far away from the their homelands in the Middle East, Arab Americans celebrate their traditional music that generates a unique bond of unity and solidarity. A large number of people, having no seats, were sitting on the ground and around the theatre. I was observing the attendees' behavior and reactions to the music. Through joyful shouts of "Allah, Allah" (O God), "Ya 'einy" (O my eye), "Ya ruhi" (O my soul) "Ya salam" (O peace) "O yaah" (encouraging American reactions), among other phrases, the audience excitedly applauded the musicians and singers. They, showing a great deal of enthusiasm, enjoyed listening to the rhythmic beats of Arab music.
In a plural statement conveying that Arabic music serves as a bridge between Arab tradition and American culture, a young Arab American recounted, "We came here deciding what kind of music we wanted to listen to; we need more of this Arabic music in both classical and modern forms. This music tells other people 'who we are'". Unexpectedly, the musicians were young orchestral volunteers mostly from their late teens to 30 years old interested in learning about Arabic music. The young generation of Arab and non-Arab descent, conscious of the authenticity of the Arab music, were energetically and enthusiastically performing the music attracting both the old and young in the audience.
Arab music, not just food or dance or other forms of art, embodies a blend of new identity combining authentic and modern features.
Leave a Reply
You must be logged in to post a comment.