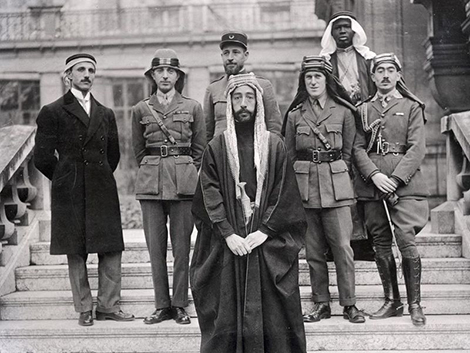 Faisal party at Versailles Conference. Left to right: Rustum Haidar, Nuri as-Said, Prince Faisal (front), Captain Pisani (rear), T. E. Lawrence, Faisal's attendant (name unknown), Captain Hassan Khadri.
by Jeffrey D. Sachs, al-Qantara, December 21, 2015
There is no doubt that the crisis-riven Middle East is beset by some unique challenges. As Jeffrey Sachs argues, however, these are not the Sunni-Shia political divide, the future of Assad or other doctrinal disputes, but rather the unmet need for quality education, job skills, advanced technologies and sustainable development
The United States, the European Union, and Western-led institutions such as the World Bank repeatedly ask why the Middle East can′t govern itself. The question is asked honestly, but without much self-awareness.
After all, the single most important impediment to good governance in the region has been its lack of self-governance: the region′s political institutions have been crippled as a result of repeated US and European intervention dating back to the First World War – and in some places even earlier.
One century is enough. The year 2016 should mark the start of a new century of home-grown Middle Eastern politics focused urgently on the challenges of sustainable development.
The Middle East′s fate during the last 100 years was cast in November 1914, when the Ottoman Empire chose the losing side during the First World War. The result was the empire′s dismantling, with the victorious powers, Britain and France, grabbing hegemonic control over its remnants. (more…)