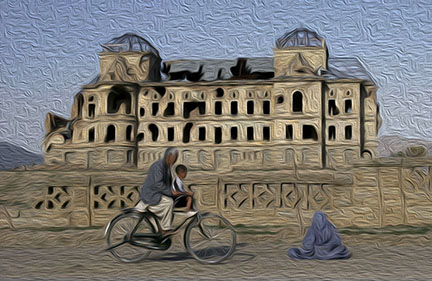 [This is a paper that was originally published under the title of "Anthropology and the Representation of Recent Migrations from Afghanistan," as it appeared in Rethinking Refuge and Displacement: Selected Papers on Refugees and Immigrants, Volume VIII, 2000. Arlington, VA: American Anthropological Association. Eds. E. M. Godziak and D. J. Shandy. Pp. 291-321. Given the intense interest in Afghanistan today, this article is made available on this site in the interest of wider accessibility. Copyright remains with the author.]
Abstract:
The April 1978 revolution in Afghanistan and the subsequent armed intervention in the country by the Soviet Union in December 1979 prompted millions of Afghans to migrate to Iran and Pakistan. About 200,000 of these migrants were resettled in Europe, the United States, Canada, and Australia. Thousands of others have moved to the Gulf States, India, Russia, and Turkey. This paper provides a critical analysis of selected writings by anthropologists regarding these Afghan migrants. With minor exceptions, these writings are passionately political, narrow in scope, anti-Russian, and designed to embarrass the USSR and the Revolutionary Government of Afghanistan. The author argues, however, that the vast majority of Afghans who left Afghanistan were economic migrants and suggests that the anthropological analysis of recent migrations from the country needs to be framed in historical processes, global capitalism, and the Cold-War competition between the United States and the Soviet Union.
Anthropologists often bemoan their perceived lack of impact on public policy and discourse. In the case of Afghanistan, as I will demonstrate, the opposite is true. Anthropologists are products of the ideological environments in which they live; the writings on recent migrations from Afghanistan by anthropologists are framed by passionate politicized discourse.
Ethnography can be seen as a means by which anthropology, or the systematic study and understanding of the human condition, is achieved.1 Ethnographic writings on Afghan migrants have tended to fall into two categories: macro-and micro-specialist writings. Both forms, I propose, are framed by political opposition to the Soviet Union and the post-1978 revolutionary government of Afghanistan. (more…)