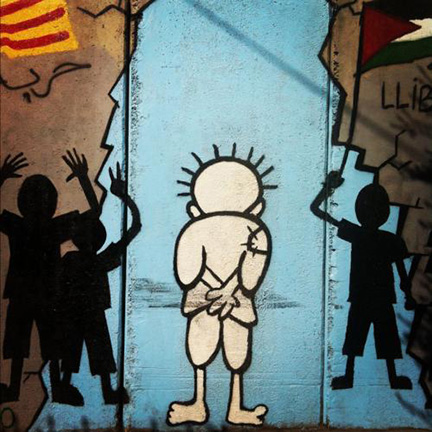 Image by Naji al-Ali. Painted on the Palestinian side of the separation barrier close to Bethlehem.
by Ammiel Alcalay, Warscapes,
August 11, 2014,
You know as well as I do that a people under occupation will
be unhappy, that parents will fear for the lives of their precious children,
especially when there is NOWHERE TO HIDE.
You know as well as I do that a husband's memory of his wife forced to
deliver their child at a checkpoint will not be a happy one. You know as
well as I do that the form of her unborn child beaten to death in the womb
will never leave a mother's mind. And you know as well as I do that a girl will
have cause to wonder at the loss of her grandfather, made to wait on his
way to the hospital, and she'll have cause to cry at the bullet lodged
in her brother's head — You know as well as I do that watching
someone who stole the land you used to till water their garden
while you hope some rain might collect to parch your weary throat