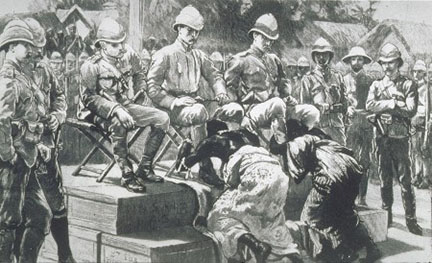 By Timothy Daniels, Guest Contributor, New Mandala, October 6, 2014
There appears to be no end to the war between several western powers—leaders in the global capitalist world order—and Muslim militants. Both sides are spiralling into some form of mutually assured destruction. Fragile "modern" nation-states, formed under the influence of European colonial forces in the early twentieth century, are crumbling and revealing their inability to deliver the promised fruits of secular modernity. Millions of Muslims are being killed, thousands are fleeing for their lives, and centuries old sites of Islamic civilisations are being decimated, while war-stressed western economies are declining into the shadows of China's great industrial leap forward.
In the face of the current phase of this violent confrontation ushered in by the emergence and establishment of a militant-led Islamic State (IS) in Syria and Iraq, many officials of western governments and Muslim leaders are making public statements that include the positive representation of Islam as a "religion of peace." Linguistic anthropologists or any other social scientists seeking to provide a serious scholarly analysis of such discourse would examine the context and what the speakers are trying to do. Here, some of the social meanings of these statements may include efforts to reinforce the peace-loving posture of the majority of Muslims and to calm the fears of non-Muslims, many of whom have already begun to resort to acts of violence against fellow citizens perceived to be Muslims. However, this scholarly tack is not the approach Clive Kessler chose.
Clive Kessler, a Columbia University trained Emeritus Professor of Sociology and Anthropology at the University of New South Wales, chose to interrogate the truth value of discourse expressing the positive representation of Islam "as a religion of peace." In the article, "The Islamic State and 'Religion of Peace,'" published online in the Quadrant on September 26, 2014, Kessler tells us that he finds this description of Islam to be "bland, disingenuous, intellectually lazy, delusional, politically evasive, and altogether simplistic." He wants us to have a clear idea of what we're confronted with in order to devise an "effective response."
(more…)