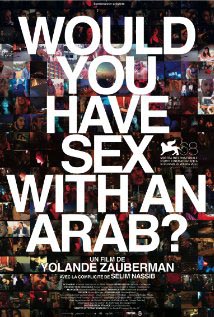 Sleeping With the Enemy? Review of ""Would You Have Sex With an Arab?
By Clara Abdulaziz,http://ta3beer.blogspot.com, April, 19
"One in five Israelis is an Arab, but it is difficult to find places where they touch fingertips."
In her latest feature-length documentary, French filmmaker Yolande Zauberman ventures out into the nightlife of Tel Aviv and asks the people she meets a deceptively simple question: "Would you have sex with an Arab?" It is clear that sex serves merely as a proxy to grapple with a much larger question: can individuals transcend identities rooted in long histories of conflict, or is identity so rigidly constructed that it in fact defines one's humanity?
Zauberman has said that she produced the film to "give space for awareness." It is meant to be "a little bit sexy, a little bit funny."
It is also, quite frankly, pretty depressing.
Zauberman's choice of Tel Aviv for her film was not arbitrary. It is famous for its non-stop club scene, and is one of the most LGBT and queer-friendly cities in the world. She shows that even here, where most young residents seem more concerned with partying than religion and politics, the boundaries of Jewish and Arab identity remain stubbornly situated within the larger Arab-Israeli conflict. (more…)