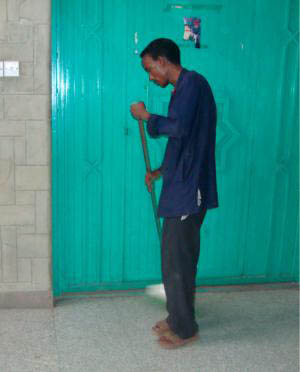 a Yemeni worker; photo by Amira Nasser
Severe working conditions with no way out
Amira Nasser, Yemen Times, May 17, 2012
Despite the revolution which exploded last year in Yemen with demands for human rights and opportunities, thousands of Yemenis still work in slave-like conditions with little hope of escape.
Surviving in Yemen's harsh economy with limited choices has forced countless Yemenis to take work that affords them little social mobility, and leaves them drowning in debt.

Tight circumstances
Waheeb Abdul-Wahab, a 13-year-old, works in a mechanic shop with his 7-year-old brother, Majed, from 7a.m. to 4p.m. daily. They each make YR 1000 , less than 5 US dollars, for a long day of strenuous labor.
"My brother and I give some of the money to my mother and we keep about YR 600 for ourselves."
Waheeb added that he alone makes roughly YR 8000 to 9000 in profits for the shop owner on a daily basis, but he keeps only YR 1000 for himself.
He and his brother are an example of thousands of Yemeni children who are forced to work demanding jobs in order to sustain their families. (more…)