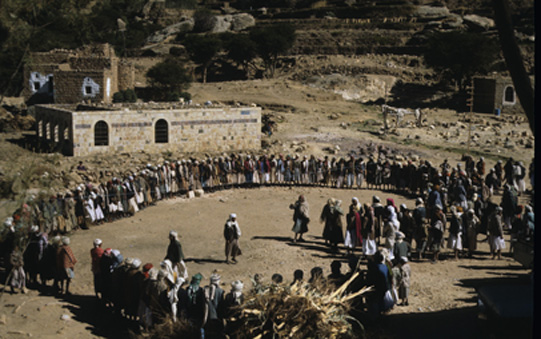 Tribesmen voting in al-Ahjur, Central Highlands, 1978
By Elham Manea, The Daily Star, April 6, 2012
February's presidential election in Yemen by no means marks the end of the country's troubles. However, the suggestion that the United States host a new arrangement based on decentralized negotiation between tribal and regional leaders is not the way to solve them.
Such a call ignores lessons from Yemen's past and underestimates the deep changes that have taken place in Yemeni society over the last decades. Although the tribal system continues to operate as the prevalent mode of social organization, it is crucial to recognize that the nature of tribal networks and institutions has changed drastically.
Historically, tribal networks compensated for the state's lack of capacity. The tribe assumed the role of protector and provider: securing tribal territory, protecting water wells, and resolving conflicts between its members or with other tribes. In many ways, the tribe was the institution of first resort for financial backing and social support in times of crisis. It is perhaps very telling that Aden – where the nuclear family has displaced the tribe as the main social unit – is more affected by poverty than regions that have preserved tribalism, such as Shabwah, Mahra and Al-Dali.
Tribal sheikhs were also once accountable to their constituents: They were elected and could be voted out. Thus, a sheikh was often regarded as a first among equals, rather than an absolute ruler. Custom (Irf) governed the mediation of conflict within or outside the tribe and could not be violated without loss of honor – a distinct disgrace – and threat of severe penalty. (more…)