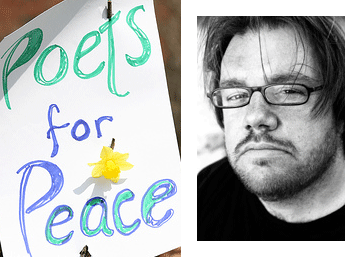 The Iraqi poet Sinan Antoon, attending the Split This Rock Poetry Festival in Washington, D.C. last weekend, was interviewed along with two other poets on NPR on March 10. Here is a brief excerpt, but there is more at the website.
CONAN: Careful listeners can hear another person there in the studio with you at the Radio Foundation in New York City. That is Sinan Antoon, a poet and novelist originally from Iraq, and it's good of you to be with us today, too.
Mr. SINAN ANTOON (Poet; Novelist; Assistant Professor, New York University): Thank you for having me.
CONAN: And in your tradition, we just heard about that "Poet's Millions" program broadcast in the Gulf area. Poetry is revered in the Arab world.
Mr. ANTOON: Yes, it is. I should say about this "Million's Poets" program, it's not necessarily the best phenomenon we have nowadays because it supports and promotes a certain kind of populist poetry, which is important, and it has its audience. But yes, the tradition of poetry in the Arab world is 14 centuries old, and it's been integral for the collective identity of people.
But in the modern, contemporary period, it was a very important forum for the anti-colonial struggle, for liberation and for a lot of people in expressing their resistance against dictatorships. So being a poet in the Arab world and saying what poets should say and defending the public and truth meant that, you know, poets are taken to court and are put in prison and are exiled, so… (more…)