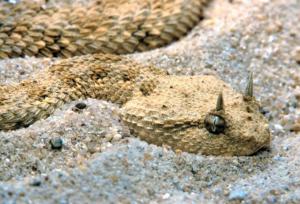 The Desert Horned Viper lurks in sand, only eyes, nostrils and horns above the surface.
Webshaykh's Note: Cyberspace harbors a host of apocalyptic websites that relate current events in the Middle East to biblical prophecy. From the site Heaven Awaits it would seem that even Iraqi snakes are suspected of being terrorists… after all these snakes have horns. The following commentary stems from a news item in The Independent.
Snakes preparing the way for demons?
from Heaven Awaits website
The Desert Horned Viper lurks in sand, only eyes, nostrils and horns above the surface. Interesting ….that it has "horns."
The Bible predicts that the Euphrates River will dry up, and demons will come out. See the latest headlines from Iraq. (more…)