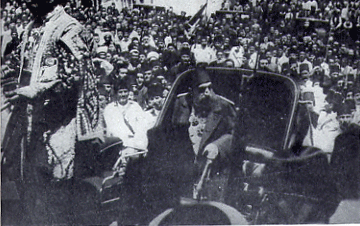 The sultan of the Ottoman Empire going to mosque the day after the constitution was announced.
Social Freedom for Turkish Women
by Mary Mills Patrick.
[The following excerpt is from "The Emancipation of Mohammedan Women," published in the National Geographic Magazine, January 1909 (Volume XX, No. 1, p.p. 61-62).]
Their past experience has been slowly preparing the Turkish women for the larger opportunities that the constitution gives them. On the morning of the 24th of July all classes of the Turkish Empire entered into a new life, but the greatest change of all took place in the harems. Women everywhere threw off their veils. A prominent woman in Salonica openly assisted her husband in the political celebration.
One woman went so far as to have her picture published in a Paris paper. At this the members of the Reactionary party rose up in common protest and said, "If this be the result of freedom, that our women display their faces to the public with such brazen immodesty, we do not wish a constitution."
The turkish women are true patriots, and when they saw that the question of freedom for women appeared to have such deep significance to the nation, not only from a political and social, but also from a moral point of view, they said with one accord, "Of what consequence is so small a matter as the veil! We will continue to wear our veils, and will seek the larger opportunities that the new constitution gives us." Turkish women everywhere have accordingly resumed their veils; but it is a very different thing to wear a veil voluntarily from being obliged to do so, and eventually they will probably appear in the streets without them.
The moral freedom that the revolution has brought the Turkish women is showing itself in many different lines. The freedom of the press has been offered to women. They are writing for the papers openly and without fear of censorship, and their voices are being heard in regard to the affairs of the nation.

Mary Mills Patrick was President of the American College for Girls at Constantinople.