Sun 1 Jun 2014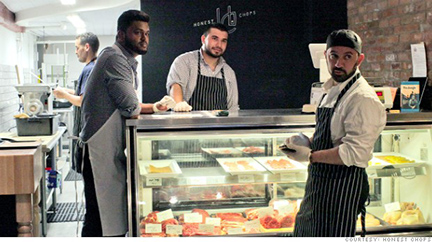 Russell Khan, Sulman Afridi, and Khalid Latif (left to right) at New York City's Honest Chops, the country's first halal whole animal butchery.
by NEW YORK (CNNMoney), May 30
Thick T-bone steaks and richly marbled oxtails decorate the display case at Honest Chops, a new whole animal halal butchery in downtown Manhattan.
Not only is the shop committed to selling humanely raised meat, it's all slaughtered in the Islamic tradition, which involves a prayer and quick death using a sharp knife.
Khalid Latif, who founded the butchery in March, spoke to Muslim students and working professionals in his community who wanted a higher quality of meat than their neighborhood markets offered.
Initially, he and his partners Anas Hassan and Bassam Tariq were just interested in opening a halal butchery. But after learning about the unnatural feed that commercial cattle and chickens are raised on, they opted to source their meat from small producers in upstate New York, Maryland and Massachusetts.
"When there's not a certain kind of purity to the food that we're consuming, that becomes problematic from the spiritual standpoint," said Latif, who has rigorous standards for the meat he sources. (more…)