Mon 25 Jul 2016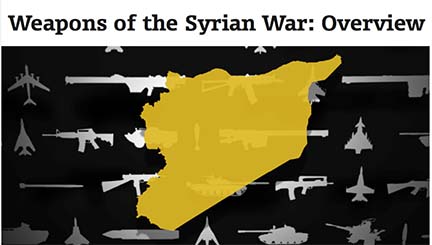 For an animated video of the weapons used by all sides in Syria, click here.
by Ben Watson, Defense One, July 19, 2016
From chlorine gas to Kalashnikovs, barrel bombs to cruise missiles, the Syrian conflict shows what 21st-century militaries and armed groups can bring to bear.
The Assad regime's bloody reaction to the 2011 Arab Spring ignited one of the most lethal rebellions in modern history, placing it in the crosshairs of more than 1,000 armed groups: rebels, Kurds, defectors, extremists and countless others, including foreign military experts. Taken together, the opposition is better equipped than any the world has seen in generations, according to Charles Lister, Middle East analyst and resident fellow at the Middle East Institute.
"Syria represents the Afghanistan of the 21st century, but on steroids. The scale of jihadist militancy in Syria is one thing; the capability that they have acquired," Lister said, "is at least in my opinion unprecedented in modern history."
The weapons on display in the Syrian war include some of the world's most advanced and deadly, thanks to the U.S.-led campaign against the Islamic State and Russia's own arrival in 2015.
Hundreds of thousands of people have died in the war; the UN stopped counting at 191,000 three years ago, but estimates range from a quarter million to at least 470,000. The conflict has uprooted half of Syria's pre-war population, scattering five million people beyond its borders.