Mon 2 Feb 2015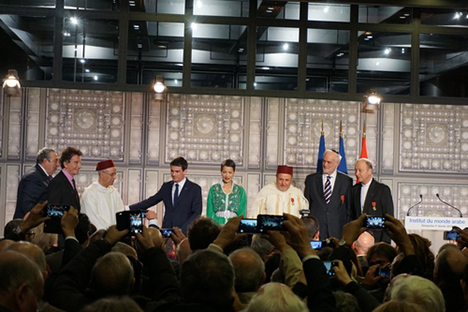 I had the great honor of attending the presentation and celebration of my friend Serge Berdugo's book project on the rehabilitation of Jewish cemeteries in Morocco. The event took place at the Institut du Monde Arabe, a magnificent cultural center dedicated to highlighting the cultures of the Arab world. The Institute is headed by the exuberant socialist intellectual Jack Lang, who served as France's minister of culture throughout much of the 1980s and twice as minister of education in the 1990s and early 2000s.
Ministers, ambassadors, rabbis, imams, bishops, intellectuals, diplomats and many others came together to celebrate Morocco's millennial Jewish history, the country's diversity, and many other virtues that single out Morocco in the region and, in some cases, the world.
Following the presentation of the book, three French Moroccans—an imam, a rabbi, and a bishop—all practicing in the same district of Évry, a suburb of Paris, were awarded medals of honor by the King of Morocco through his sister, Princess Lalla Meriem. It was during this moment that France's Prime Minister, Manuel Valls, a man who has been in the limelight following the recent terrorist acts in Paris, walked to the podium, condemned all forms of discrimination, and then proceeded to explain the badly misunderstood concept of laïcité (which approximates the American idea of secularism) by showcasing the three men of god who were being honored as perfect examples of why laïcité protects freedom of religion by keeping the government out of people's private faiths.
It is often said that France went too far with its anti-clerical revolution, but Valls gave his nation's ideology—laïcité—a decidedly Jeffersonian meaning.
Bravo.