Sun 21 Sep 2014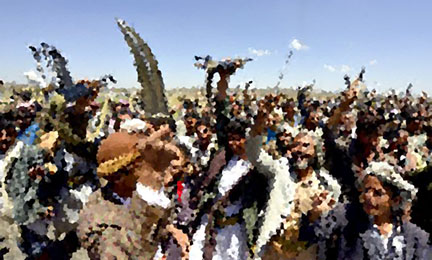 Are the Houthis a symptom of regional mistrust?
by Abdullah Hammidaddin, alarabiya.net, Saturday, 20 September 2014
Ten years ago this month Ali Saleh had ordered the field execution of Husayn al-Houthi. This was after a three-month war between government forces and Husayn's supporters in a remote village in northern Yemen. At the time, Husayn's supporters were few and I believe the matter could have ended there. But Saleh decided to push on and confront the rest of Husayn's family who then reacted by picking up arms again. They ended up surviving five wars waged by the government. Today Abdulmalik al-Houthi – Husayn's younger brother – has forces in Sanaa and this time he is threating the Yemeni government, forcing it to make concessions.
In the past year alone, the Houthis have altered the political landscape of Yemen. They pushed the Ahmar family out of their homes and overthrew their three hundred year sheikhdom and authority in the tribal federation of Hashid. They took the al-Jawf area as a strategic last stronghold for their adversaries. They've forged alliances with most tribes in the northern region and also in the south. And now in Sanaa they are fighting against both the militias of the Islah party (Muslim Brotherhood branch in Yemen) and military factions loyal to General Ali Muhsin Al-Ahmar in what could escalate into a major war in the fragile capital city. (more…)