Mon 21 Apr 2014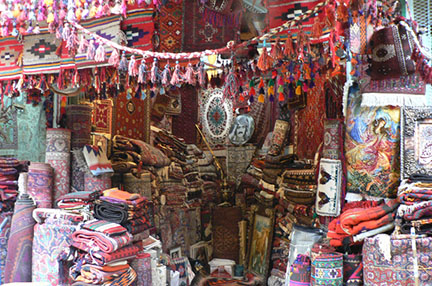 It is getting harder for Iraqi-Kurdish vendors to find stock of genuine Kurdish handicrafts [Lara Fatah/Al Jazeera]
by Lara Fatah, Al Jazeera, April 20, 2014
Erbil, Iraq – In the heart of the ancient city of Erbil, capital of the Iraqi Kurdistan region, stands the Erbil citadel, or Qalat, as it is known locally. A walk along the city walls, which are currently under restoration, brings people to one of the region's gems: the Kurdish Textile Museum.
It is here that the lost art of weaving and handicrafts is being re-taught. Shereen Fars Hussan, one of 40 women trained in weaving at the museum since 2009, sits quietly in the building's cool upper interior as her colleagues chatter with pride at having learned these traditional skills.
Hussan, 30, remembers how she used to watch her grandmother weave carpets and kilims (tapestry-woven carpets). "She would tell us stories about the old ways of life in Kurdistan, how she would weave carpets with the patterns that her own grandmother and mother had taught her from childhood, but war and genocide meant that she couldn't pass on the skills to my mother and me," Hussan told Al Jazeera.
VIDEO: Kulajo – My heart is darkened (more…)